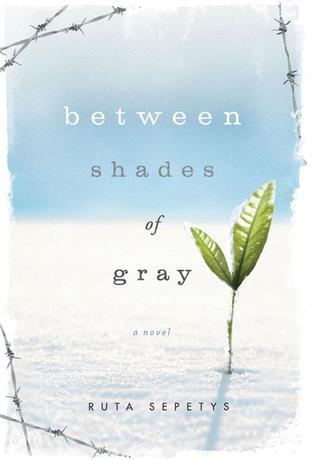 Lina is just like any other fifteen-year-old Lithuanian girl in 1941. She paints, she draws, she gets crushes on boys. Until one night when Soviet officers barge into her home, tearing her family from the comfortable life they've known. Separated from her father, forced onto a crowded and dirty train car, Lina, her mother, and her young brother slowly make their way north, crossing the Arctic Circle, to a work camp in the coldest reaches of Siberia. Here they are forced, under Stalin's orders, to dig for beets and fight for their lives under the cruelest of conditions. Lina finds solace in her art, meticulously--and at great risk--documenting events by drawing, hoping these messages will make their way to her father's prison camp to let him know they are still alive. It is a long and harrowing journey, spanning years and covering 6,500 miles, but it is through incredible strength, love, and hope that Lina ultimately survives.
To be honest, I wasn't completely sure what this book was about going in. I knew that it was World War II from a different angle than it is typically seen, I knew that it the main character was Lithuanian, but that's all I knew. And that's a big part of why this book is so important, why it is so unique. There are atrocities that were hidden for years, a people who suffered in silence and in anonymity.
These stories are important and this story is important. On top of being important, it is beautiful. All these characters made their way into my heart so quickly, and it tore me apart to see them suffer. All the worse that these atrocities are very seldom talked about and very seldom make their way into fiction.
I love how real Lina is. She gets angry at the hand she's been dealt. She hates as well as loves, and she wants to protect what she can't protect. She felt emotion and expressed it. I loved how vital art was to her, and how it wasn't written as a vague interest. She was passionate about her art, and she felt strongly about other people's art.
I loved Andrius, too. He wasn't always perfectly pleasant, but neither was Lina and neither was Jonas. That's what made them feel so real, because their circumstances were horrific and they had no preparation for them. They felt the unfairness of life more than anyone that young should. I also loved his relationship with Lina and how so utterly genuine it was. It changed quickly from acquaintances in suffering to friends to in a relationship. But I never doubted it for a second, because their was always a sense of connection.
If I had to nitpick one flaw, it would be the ending. Not that I disliked the ending, I just wish there was a little bit more of it. It felt slightly incomplete, and I sort of wish there had been more transition between the end of the story and the epilogue. I would wish for more resolution about her father, rather than a vague sort of hope. But, again, that's really my only half-critique.
This book broke my heart over and over again. Through this book the reader is witness to the worst and the best of mankind and it is beautiful and horrific and heartbreaking. I want more historical fiction like this. I want more YA historical fiction set in times that don't get much attention. Times that are interesting and uncovered and raw.
I will read everything Ruta Sepetys writes after his, she's won my trust completely.
Quotes:
"I wondered if there was a moon out, and if so, what it looked like. Papa said scientists speculated that from the moon, the earth looked blue. That night I believed it. I would draw it blue and heavy with tears."
"I clung to my rusted dreams in the times of silence. It was at gunpoint that I fell into every hope and allowed myself to wish from the deepest part of my heart."
"They didn't ask for anything. They were happy to help someone, to succeed at something, even if they weren't to benefit. We'd been trying to touch the sky from the bottom of the ocean. I realized that if we boosted one another, maybe we'd get a little closer."
"In 1991, after fifty years of brutal occupation, the three Baltic countries regained their independence, peacefully and with dignity. They chose hope over hate and showed the world that even through the darkest night, there is light."