Isla and the Happily Ever After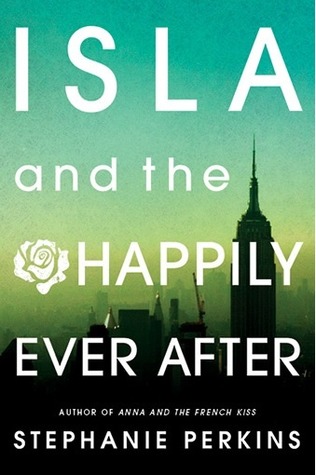 From the glittering streets of Manhattan to the moonlit rooftops of Paris, falling in love is easy for hopeless dreamer Isla and introspective artist Josh. But as they begin their senior year in France, Isla and Josh are quickly forced to confront the heartbreaking reality that happily-ever-afters aren't always forever. Their romantic journey is skillfully intertwined with those of beloved couples Anna and Étienne and Lola and Cricket, whose paths are destined to collide in a sweeping finale certain to please fans old and new.
I meant to review this book a long time ago. I read it as soon as it came out, but then I sort of lost my free time to moving into and adjusting to college life. So yeah, that review didn't exactly happen.
I have been waiting for this book for about three years now, after reading Anna and Lola back to back and I am so relieved. This book lived up to its predecessors and gave me the same love that I was hoping it would. I fell into the story of this book just as much as I did in the other two, because Stephanie Perkins is magnificent like that.
I really like Isla. I didn't feel the connection with her that I had with Anna, and I didn't find her as interesting as Lola, but I liked her for what she was. She's earnest and loyal and awkward. Her friendship with Kurt was a really nice side story and it made my heart super happy. I loved her and Josh, they were pretty adorable. I liked her journey, too. I know a lot of people saying she didn't have a clear journey, but I think she did. At the beginning, she didn't know what her journey was, she didn't know who she was. But by the end, she has a better view of herself through help from Josh and Kurt.
And Josh. Precious, darling, Josh. I really did love him and how thoughtful and kind he was, but at the same time, he was believably a boy. His actions made sense in terms of their relationship and their place in life. Also, the art side of their relationship was so beautiful and props to Stephanie Perkins for creating it. I now want to date an artist, because their souls are gorgeous and they see things that others can't.
The settings were gorgeous as well, as always with Stephanie Perkins' books. Paris felt like home, Barcelona like summer, and New York like an adventure. I loved every bit of this journey, and I love that the boundaries were always expanding and you were never in the same place very long.
Slight Spoiler Section:
I ADORED the reunion scene. I was squealing and crying and sighing. I want to see more of the six of them, hanging out, being friends, living life. But at the same time, I almost died in just the couple pages that we got. And ANNA AND ETIENNE. OH GOOD LORD. I CAN'T TALK ABOUT IT. I'LL DIE.
End of Spoiler Section:
So yeah, I really loved this book. It was different than the first two, and different than I expected, but still familiar in the way I was hoping. I can't wait to see what else Stephanie Perkins will write in the future.